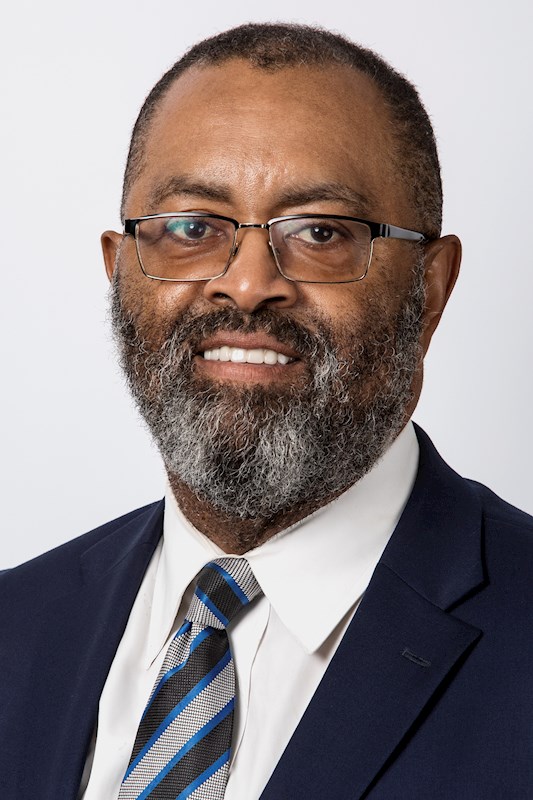 Born the youngest child of Acie and Katherine Freeman, - Bowyer G. Freeman was raised in Cincinnati, Ohio. Upon graduating from Cincinnati Princeton Senior High, he earned a Bachelor of Arts degree from The University of Dayton (Ohio).
He is a life-long learner, having also earned a Master of Business Administration (MBA) – 1989; Master of Divinity (M.Div.) – 1998; and Doctor of Ministry (D.Min.) – 2003; all from Howard University in Washington, D. C. Bowyer Freeman has served as Senior Pastor of the New St. Mark Baptist Church in Baltimore, MD since November 1998. It is Pastor Freeman's desire and earnest prayer that New St. Mark Baptist Church be inspired to go Higher in the will, the word, and work of The Kingdom of God. New Saint Mark Baptist Church continues to work and serve under the Christ-centered vision of Spiritual Regeneration, Social Transformation, Community Reconciliation, and Physical Restoration.
Prior to coming to New St. Mark Baptist Church, his pastoral stops included ministry duties at the First Baptist Church of Guilford – Columbia, MD; and Union Memorial Baptist Church – Westminster, MD. In 1985 he was licensed by the church of youth, Mt. Zion Missionary Baptist Church – Glendale, OH.
From 1996 – 2007, Dr. Freeman served as Director, Department of Pastoral Care Services at Howard University Hospital in Washington, DC. The Department provides ministry & pastoral counseling of an ecumenical nature to the Hospital and Howard University community. As Departmental Director, he coordinated the Pastoral Practicum course for students in the Howard University School of Divinity and served as Adjunct Faculty with the University's multi- disciplinary Health Care Ethics course.
Dr. Freeman has designed, developed and produced workshops and seminars focused on health care ethics, religion, and diversity. He has served as speaker and moderator to organizations in the public, private, academic, religious, and research communities.
He has served as an NAACP Branch President, Vice-Chairman and Chairman of NAACP Region 7 (Maryland, DC, & Virginia). A proponent of faithful stewardship, Dr. Freeman served as Treasurer of the United Baptist Missionary Convention & Auxiliaries of Maryland, Inc., (UBMC), & served as Vice-President/ Chief Financial Officer of UBMC from 2006 - 2014. He served as a Board Member of Associated Black Charities of Maryland from 2006 - 2016.
In 2011 he was appointed by Mayor Stephanie Rawlings-Blake of Baltimore City to serve on The Board of Commissioners for the Housing Authority of Baltimore City (HABC). During his tenure at HABC, he served as Chair of the Audit & Finance Committee. Dr. Freeman and his wife-- Mrs. Terri Lee Freeman have been blessed to celebrate 31+ years of marriage. They are the proud and thankful parents of three daughters: Corryn Grace, Camille Louise, and Carmen Katherine. They are also blessed to have two grandchildren: Xander and Zora.