1234 McElderry Is the First Phase in the Perkins-Somerset-Old Town Transformation Plan
This first phase will include 104 apartments, the first of 1,345 planned homes in the community 
The Perkins-Somerset-Old Town (PSO) Transformation Plan, which will cover 244 acres and create 1,345 new homes in East Baltimore over six years, received a major boost with the start of construction of the first building, 1234 McElderry. The building will include 104 apartments, 84 of which will be affordable to lower-income families.
In addition to the apartments at 1234 McElderry, the ground floor will include 2,400 square feet of retail and parking. The four-story building also includes a fitness center, cyber lounge and two courtyards.
"It's hard to overstate the significance of this day," said Housing Authority of Baltimore City (HABC) Executive Director Janet Abrahams. "By putting these first shovels in the ground we are taking the first step toward ensuring that the low-income families, disabled citizens and veterans we serve live in quality homes in thriving neighborhoods. We are so proud to join with the City of Baltimore, The state of Maryland, the US Department of Housing and Urban Development, our development partners, residents and our other private funders on this great vision."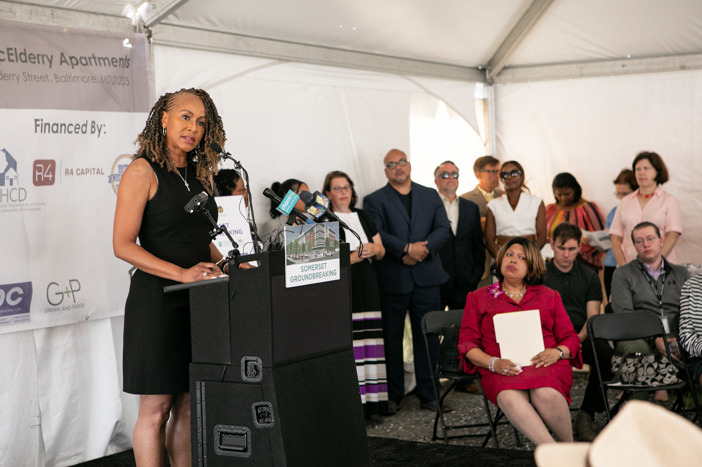 The PSO Transformation Plan, a joint effort between HABC and Baltimore City was made possible by a $30 million HUD Choice Neighborhoods (CN) grant. The Transformation Plan seeks to leverage more than $540 million of public and private investments in the neighborhood.  In addition to providing 1345 new residential units (replacement, affordable and market rate units), the plan includes infrastructure improvements, two new parks and upgrades to existing parks and recreation spaces, construction of a new City Springs Elementary school, a grocery store and new neighborhood-serving non-residential spaces and new jobs. A companion supportive services plan targets existing resident to assist them in achieving their personal economic and self-sufficiency goals.  The plan is designed to create a diverse community that will enable current and new residents to live in economically integrated, high-quality housing with exceptional amenities.
"The beginning of construction and the critical investment being made in Perkins Somerset and Oldtown are monumental," said Mayor Bernard C. "Jack" Young. "The residents of this community have been extremely patient and deserve all the phenomenal changes they are about to witness. I want to thank HUD for the $30 million grant that made it possible to get this work started and I want to congratulate the Housing Authority of Baltimore City for leading the effort to make this day a reality for residents in these neighborhoods."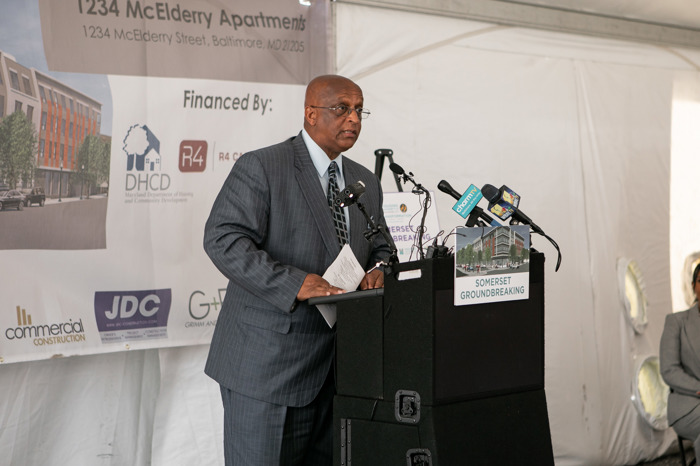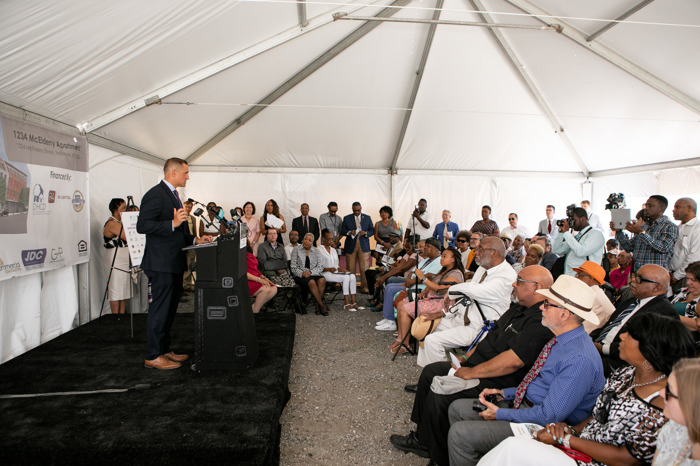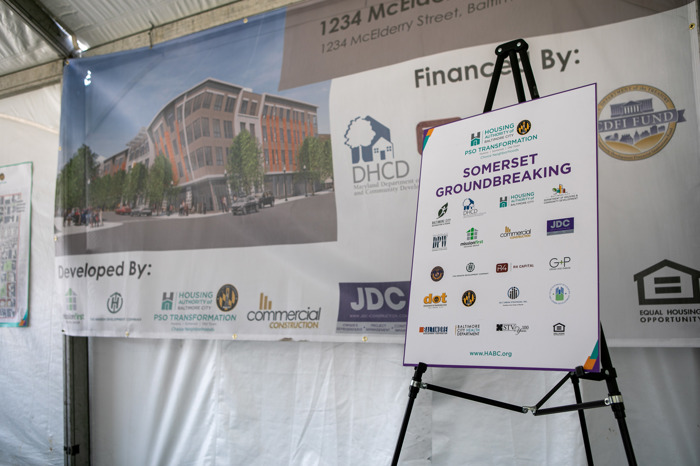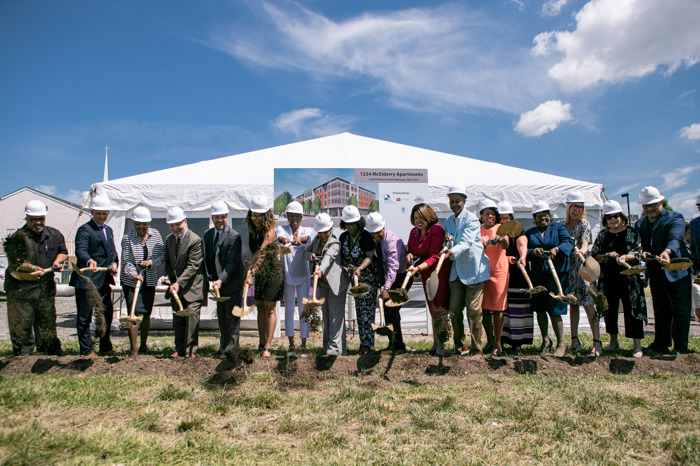 HABC is working with two development partners on the 1234 McElderry building, Henson Development Company and Mission First Housing Group.
"The start of construction for 1234 McElderry represents the culmination of community outreach and design efforts over the past five years," said Henson Development Company's Vice President, Dana Henson. "As native Baltimoreans, we are excited to be a part of this historic community revitalization effort. The Perkins-Somerset-Oldtown Transformation plan is significant in its opportunity to reconnect outlying neighborhoods into the fabric of the City. Having these 104 apartments as the first building of this effort is a proud moment for The Henson Development Company."
"We are proud to be part of the Perkins Somerset Oldtown redevelopment team," said Sarah Constant, Managing Director for Mission First Housing Group. "This development increases Mission First's footprint in Baltimore, and, as a Choice Neighborhoods development, we are excited to not only provide new affordable housing but also be part of the team bringing comprehensive redevelopment into this community."
For more information about the PSO Transformation Plan, visit the project website at www.habc.org.
About HABC:
HABC is the fifth largest public housing authority in the U.S., providing quality affordable housing for more than 19,500 households. The agency creates diverse and vibrant communities, provides opportunities for self-sufficiency, and builds pathways for strong partnerships. #BmoreHABC
About Mission First Housing Development Corporation
Mission First Housing Group develops and manages affordable, safe and sustainable homes for people in need, with a non-profit, mission-driven focus on the most vulnerable. We ensure our residents have access to resources to help them live independently. Mission First currently provides affordable housing and services to more than 5,000 people in over 3,800 units, serving populations in need, such as veterans, survivors of domestic violence, seniors and the disabled. More information at www.missionfirsthousing.org.
About Henson Development Company
The Henson Development Company, Inc. (THC), a 100% family owned and operated minority-owned business enterprise, is a fully integrated real estate developer, consultant and program management corporation based in Baltimore. The company's principal, Dan Henson, served as HABC's executive director from 1993-1999. More information at www.hensondevelopmentco.com.