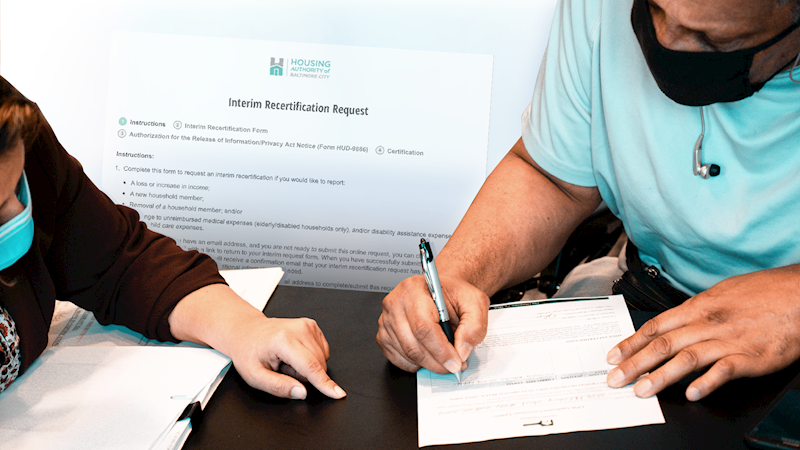 REPORTING CHANGES
Please click the "Get Started" button below to report changes to your household in any of the following categories:
Income

Household composition (adding or removing members)
Get Started!
---
As a current participant in the Housing Choice Voucher Program (HCVP), you have an opportunity to select and rent decent and affordable homes in the private market. Participants residing in voucher units pay 30% of their income for rent and utilities. Housing subsidies are paid directly to the landlord on the participants' behalf. Tenant-Based Voucher participants are eligible to move or transfer after 12 months of holding their lease. 
The initial voucher term is 60 days.  30-day extensions may be requested, however no voucher may exceed 120 days.  An additional 30 day extension may be requested as a Reasonable Accommodation for persons with disabilities.
How do I find a rental property?
HCVP participants may search for available rental properties using the HABC housing locator tool. Click here to find a rental property.
You may also find properties on the following sites:
Participants may choose any housing type that suits the needs of their family, as long as the requirements of the program are met.
What are the participant's obligations?
As a participant in the HCVP, there are certain guidelines that must be followed, including:
No unauthorized household members
No criminal activity
Compliance with the lease
Compliance with program requirements
Pay rent on time
Maintain unit in good condition
Respond to HABC correspondence
Attend required HABC appointments
Provide HABC with required information
Allow HUD mandated unit inspections
Not subletting the unit, assigning the lease, or having any interest in the unit
Promptly notifying HABC of any changes in the family composition
Notifying the owners and HABC before moving to terminate the lease with landlord (60 day vacate notice required)
Can I use my voucher outside of Baltimore?
A family that has been issued a Housing Choice Voucher by HABC may use that voucher to lease a unit anywhere in the United States where there is a Public Housing Authority (PHA) that administers the Housing Choice Voucher Program. 
Reasonable Accommodations Requests
If you, or someone in your household, have a disability, you have the right to ask the Housing Authority of Baltimore City for a "reasonable accommodation request."
To do so, please click HERE to find more information.